We have already introduced Lightsats. Now let's find out in detail how it works
HOW TO CREATE THE TIP/CASHBACK/GIFT
○ Go to https://lightsats.com/ and click on 'Create a new tip'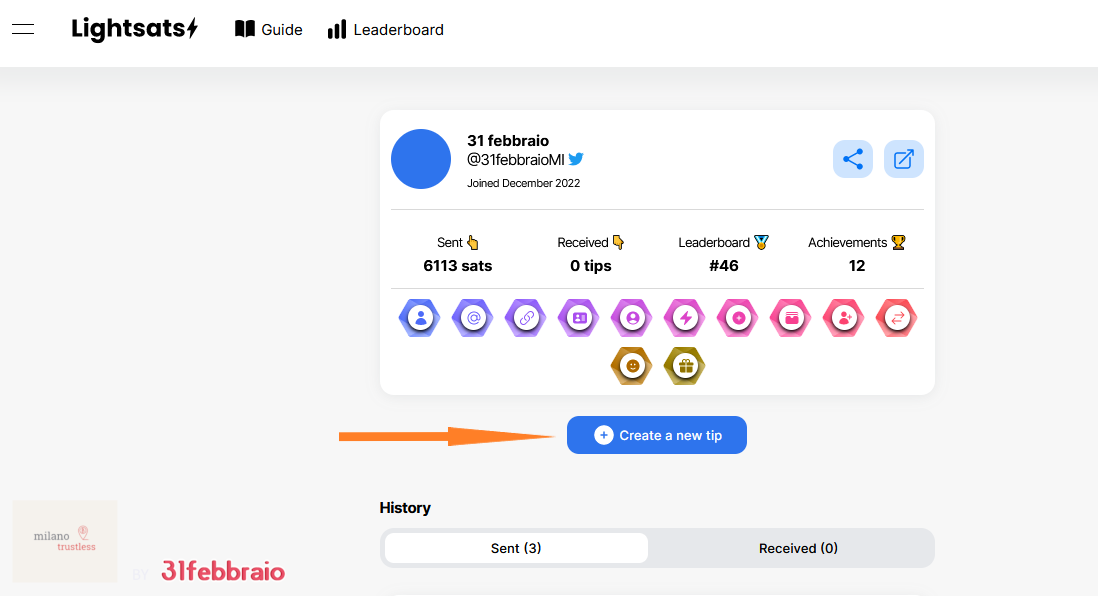 ○ The settings page opens, where you set the fiat currency, amount, validity time (in days) and then click 'Create tip'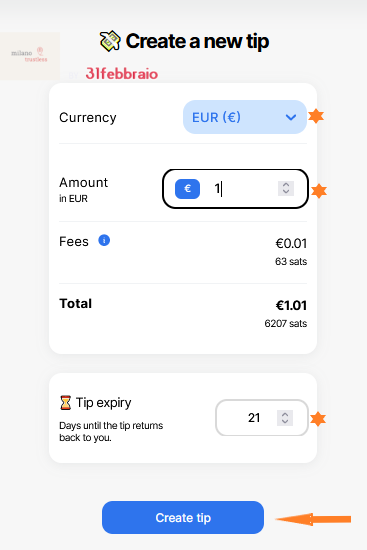 ○ Personalize the gift, leaving a dedicated message, by clicking on 'Personalize tip'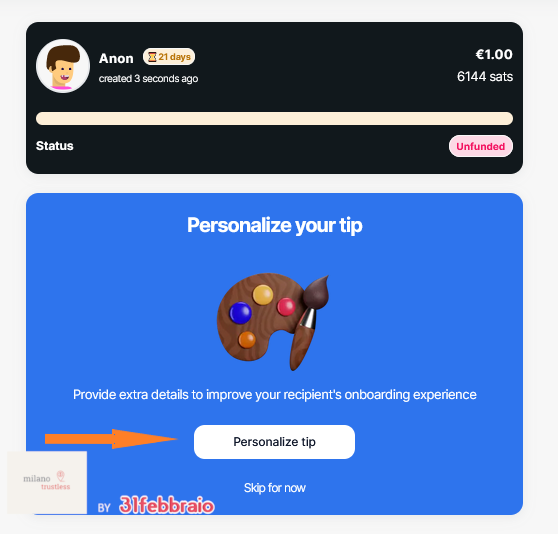 ○ Use your Ligtninig Network wallet to fund the tip, by scanning the QR code that presents the interface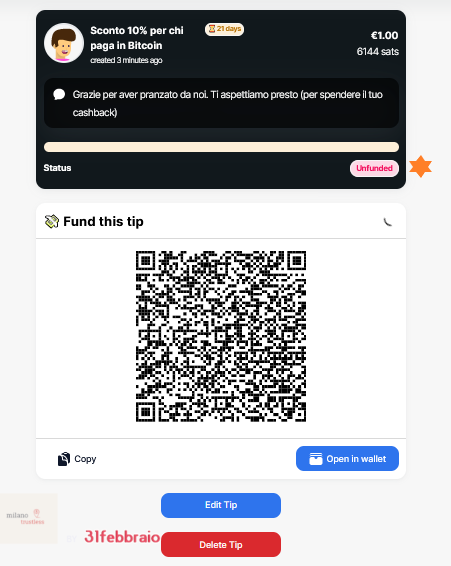 ○ Once the tip is funded, simply have the recipient scan the QR code showing Lightsats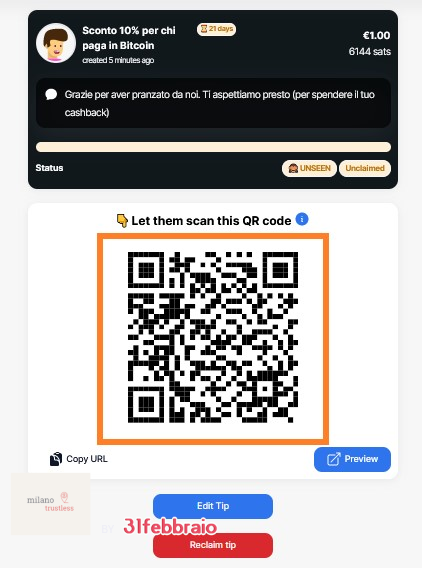 HOW TO AWARD THE TIP/CASHBACK/GIFT
○ As soon as the customer in the example scans the QR code with their cell phone, Lightsats givesthe link to go to claim the tip

○ Lightsats will ask the user to authenticate, also showing who the sender is
Authentication can be done with one's cell phone number (very easy for newcomers, but not exactly privacy oriented), an email address, or-for those who own oe-to withdraw the tip directly with the LN wallet.
We used a burner-email which we highly recommend (for your privacy and not for something related to Lightsats itself)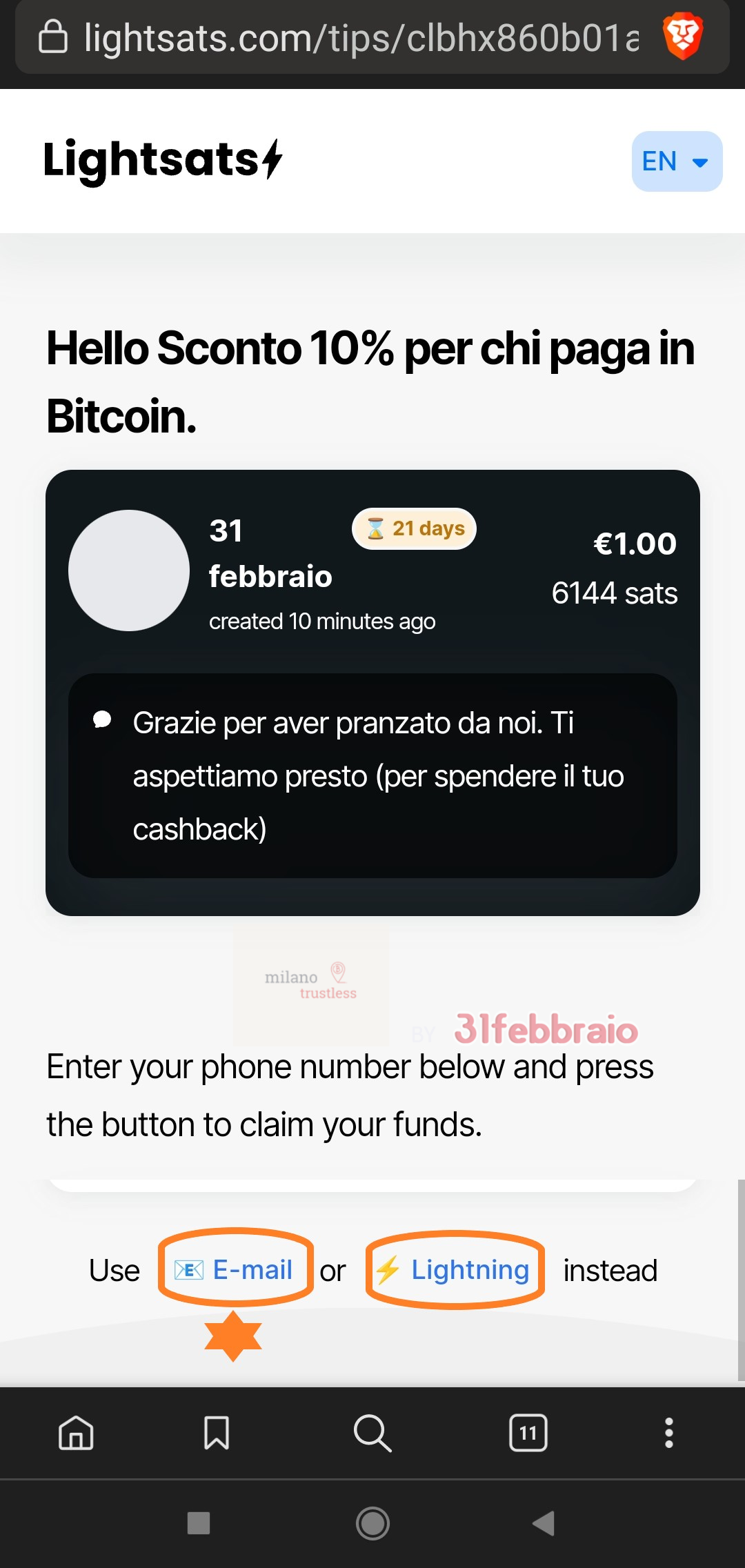 ○ Enter the email and click on 'Claim my funds'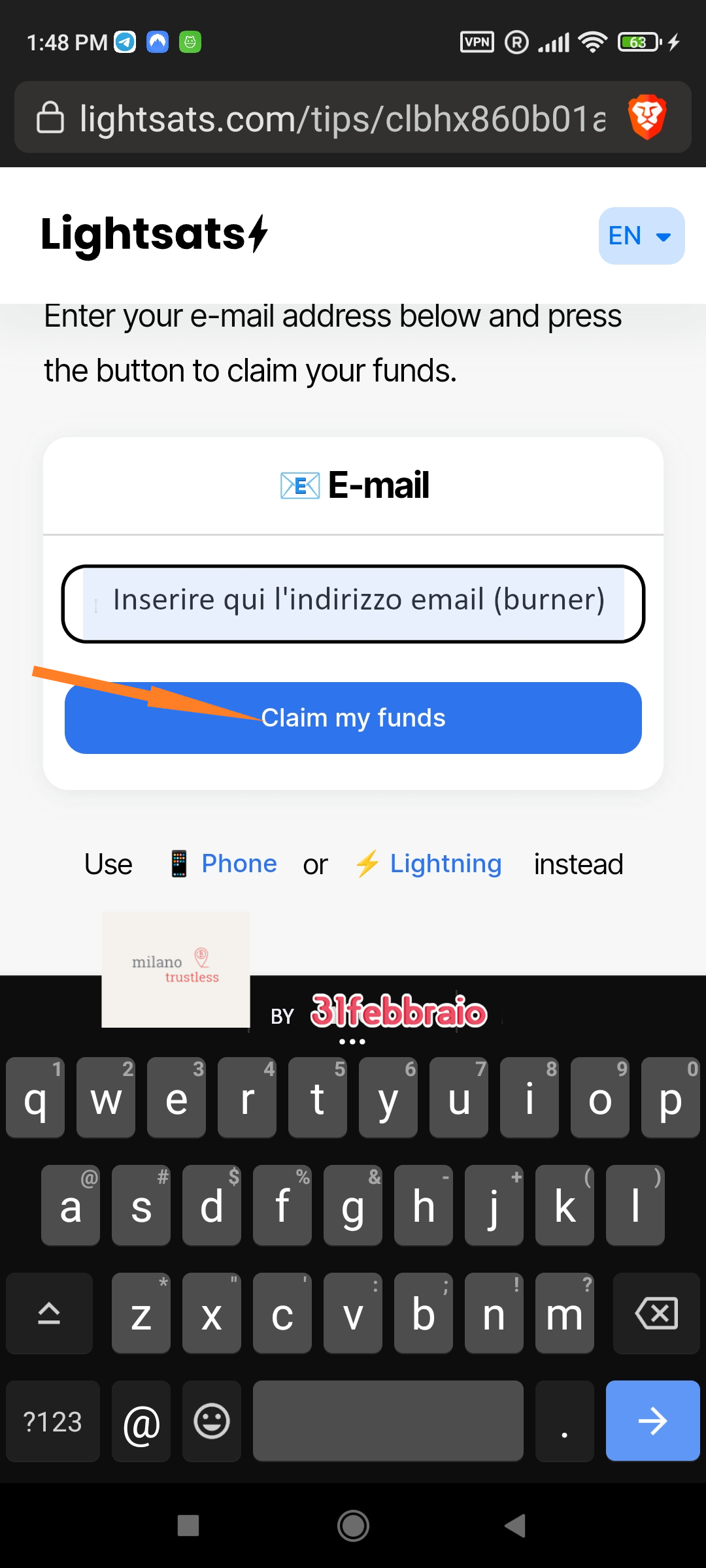 ○ Lightsats will have sent a 'magic link' in the recipient's mail
Click on the link to begin onboarding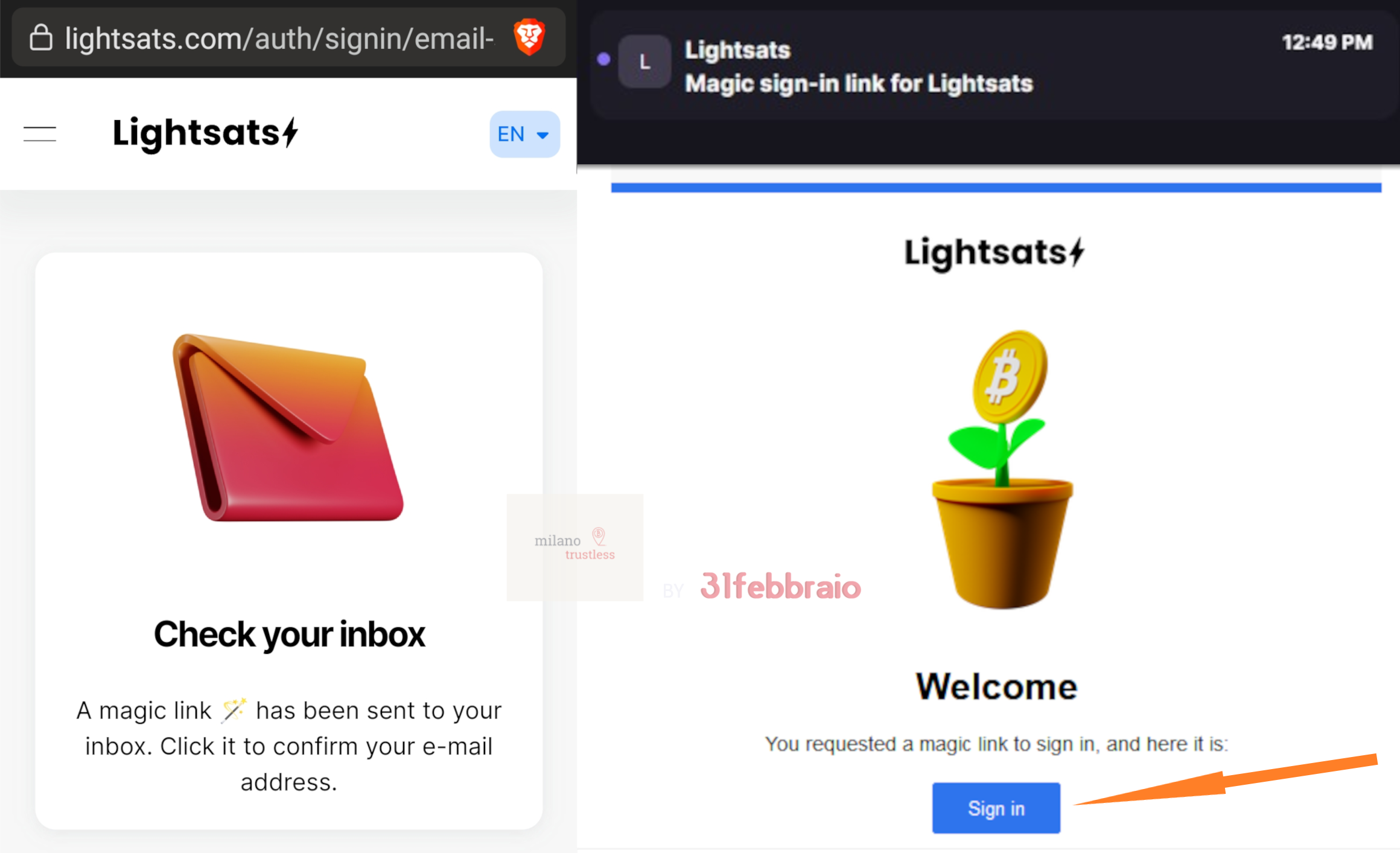 ○ Once again via the web, you will be taken to the new window where you need to click on 'Start your journey'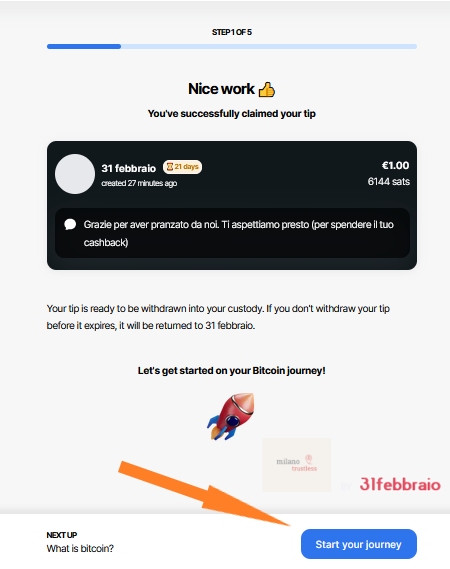 START YOUR JOURNEY
○ Like any good experience, the Lightsats ride is a guided tour with some of the key features of Bitcoin
○ At the end of the LN wallet download, you need to press 'Continue'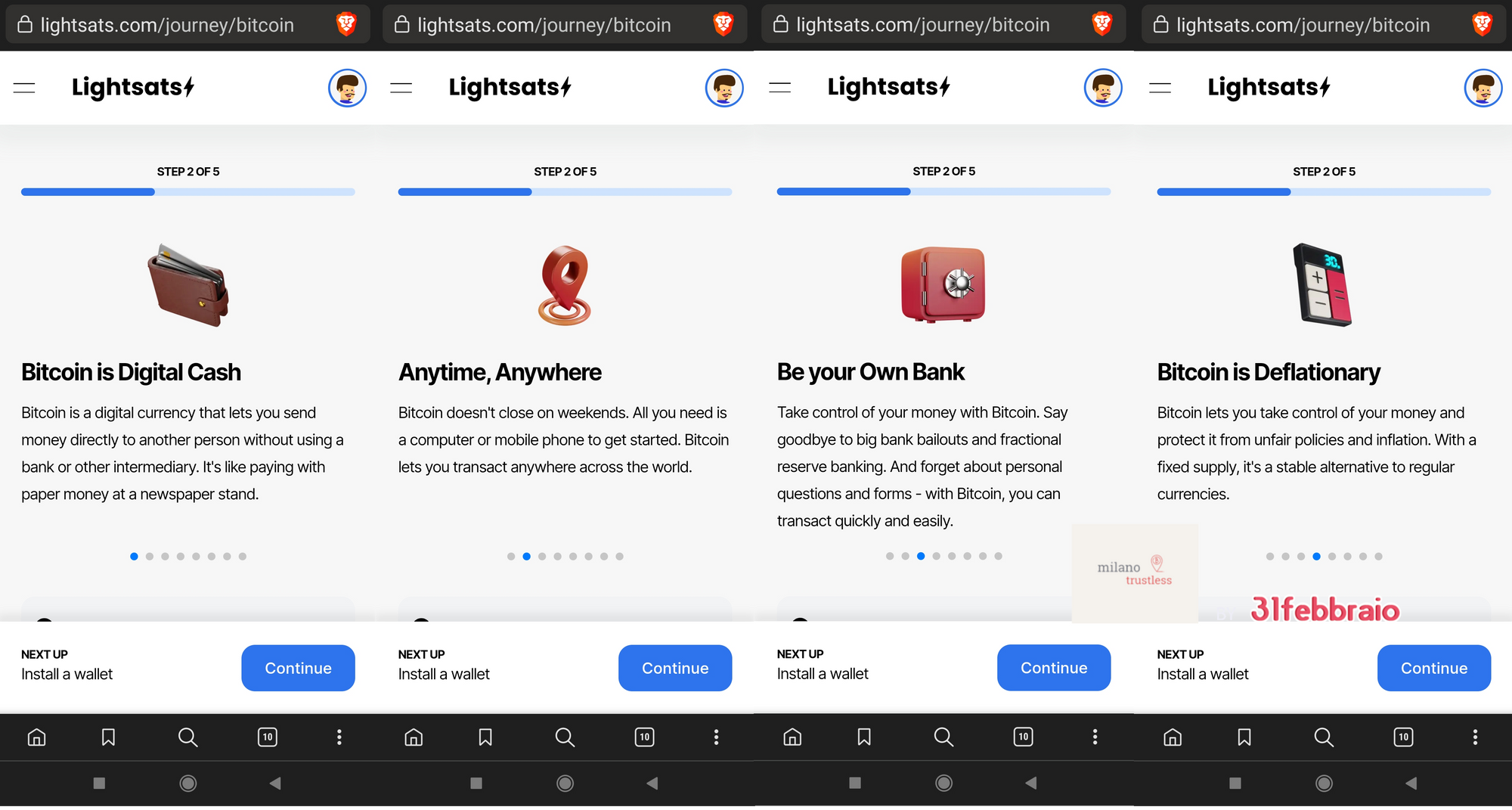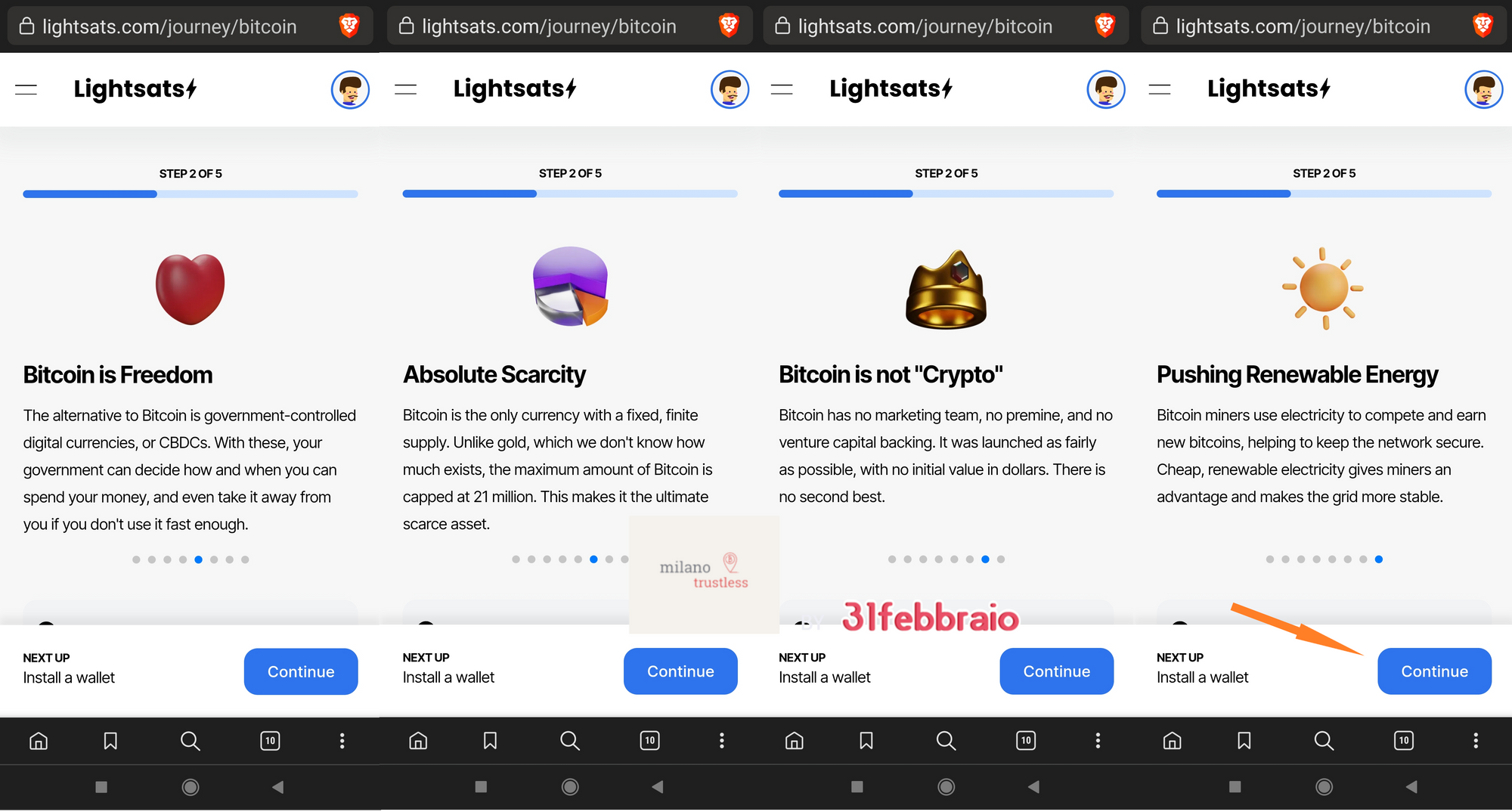 You enter step 2 of 5 and, before engaging in it, you can read some brief explanations:
Bitcoin is digital cash
Anytime, anywhere
Be your own bank
Bitcoin is deflationary
Bitcoin is freedom
Absolute scarcity
Bitcoin is not cRyPtO
Pushing renewable energies
○ After reading these features, the new user is invited to download the first LN wallet, among those suggested and recommended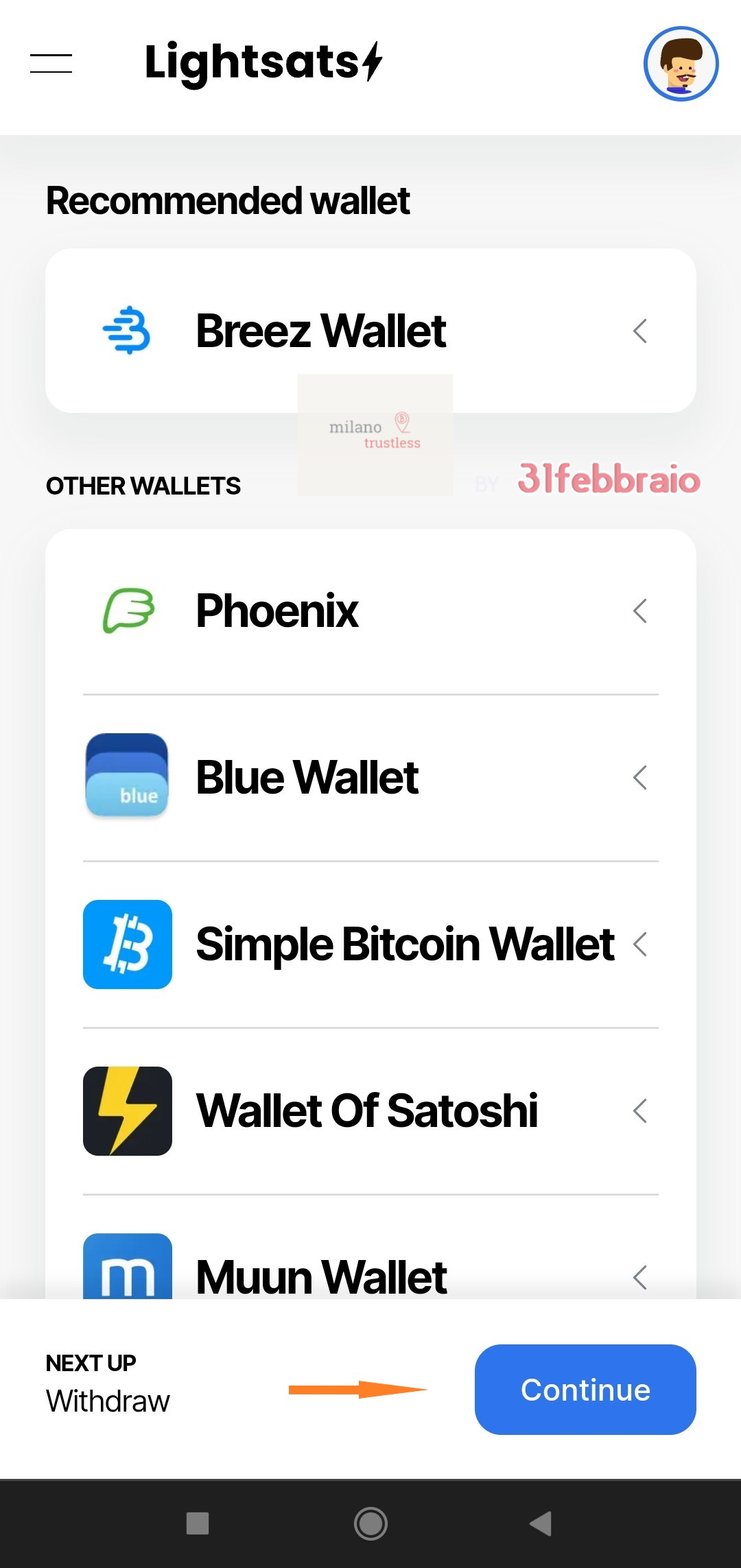 ○ We recommend clicking on 'Open in wallet', to let the chosen app automatically withdraw the tip/cashback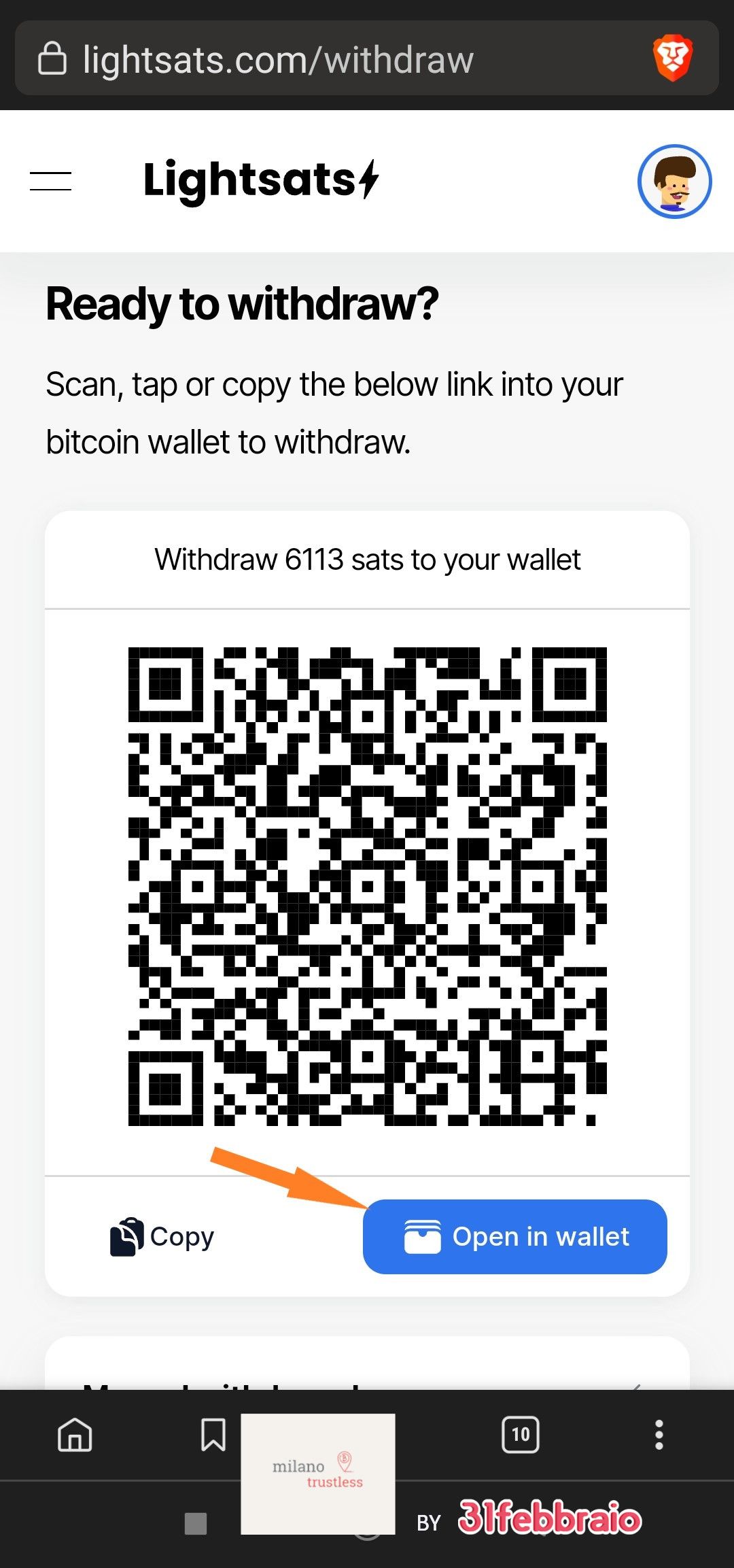 ○ The wallet will do it all on its own, all the user has to do is press 'Redeem' if they have downloaded Phoenix. Each wallet will have its own command to withdraw the amount left as a gift by the sender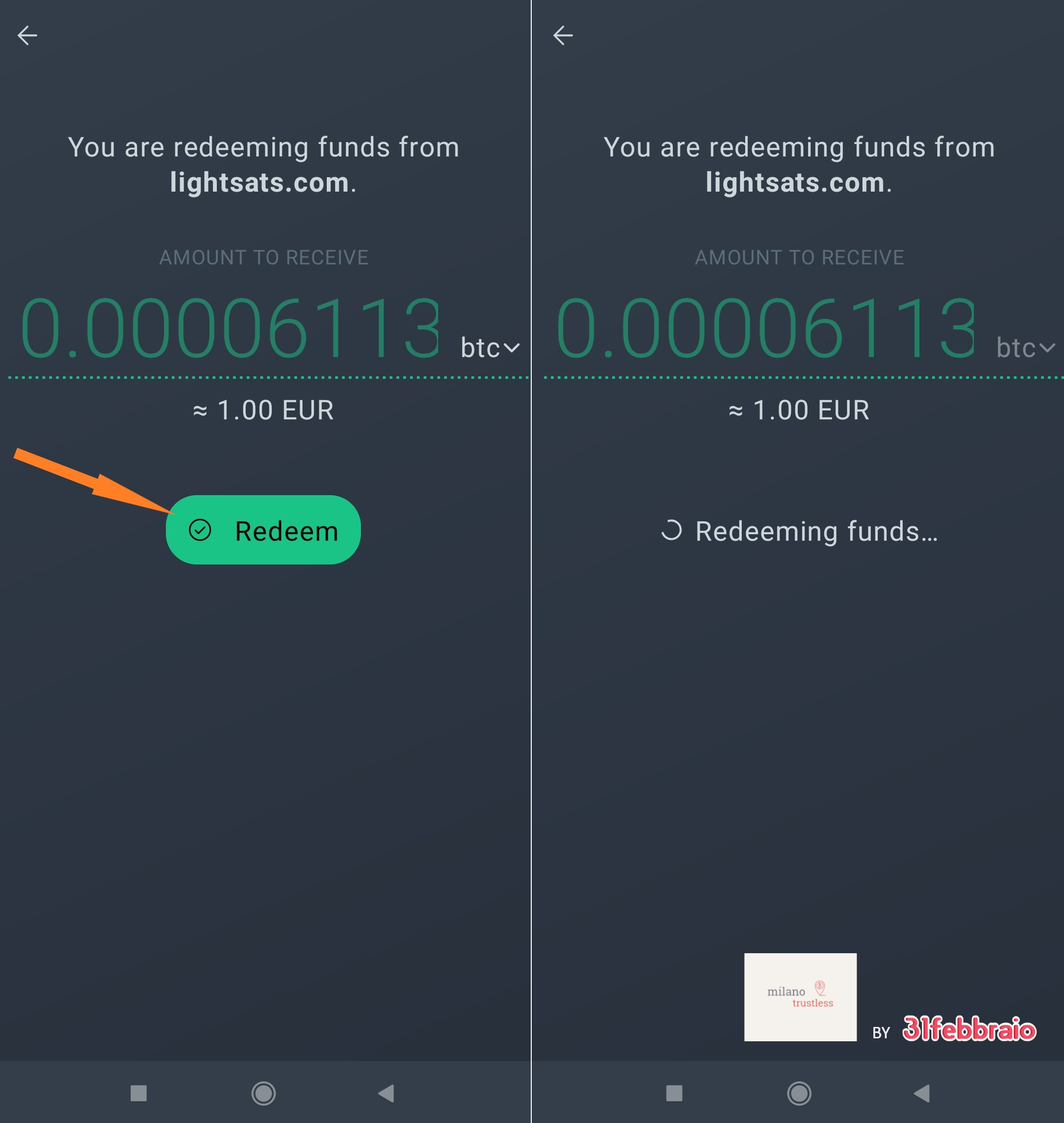 ○ The first Bitcoins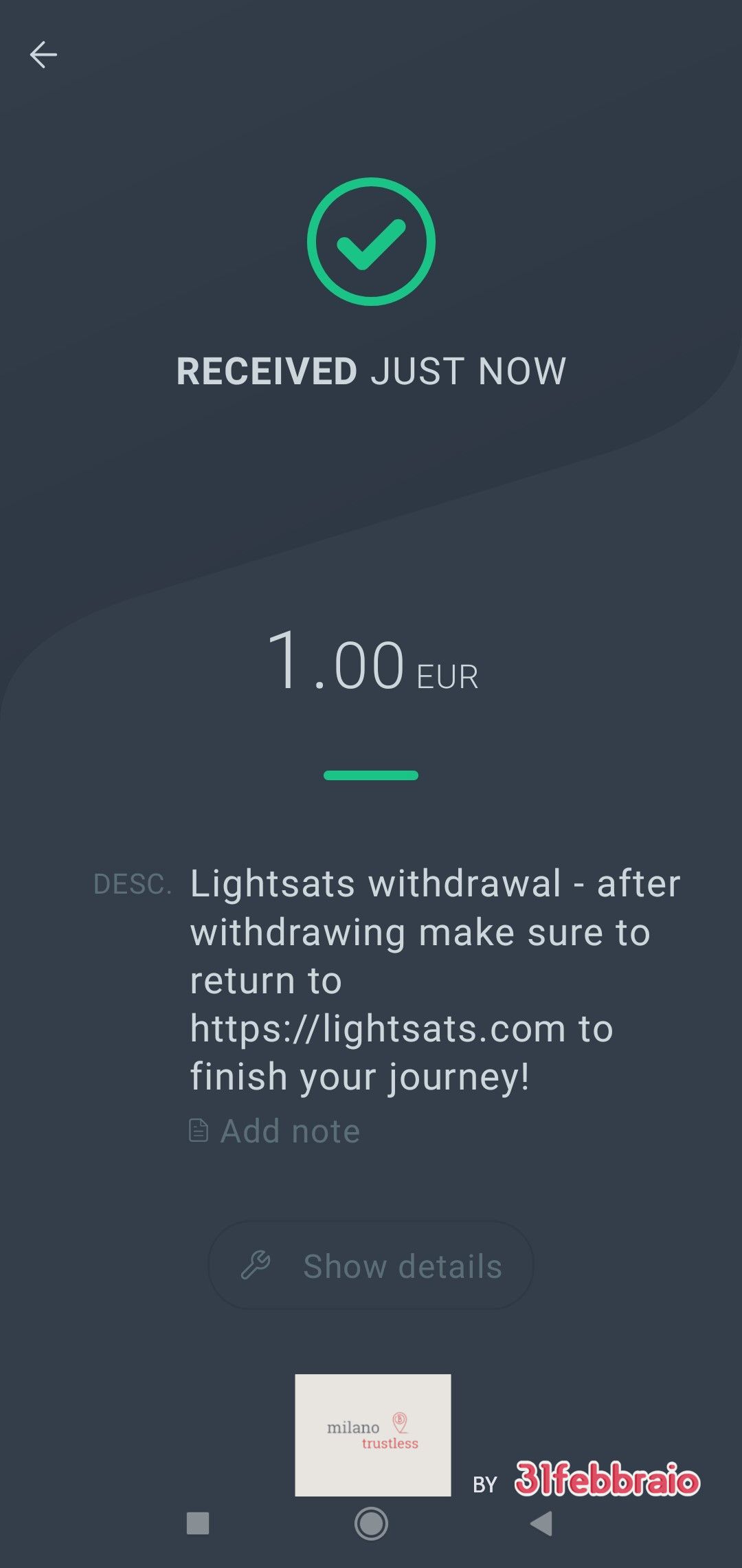 ○ Compliments from Lightsats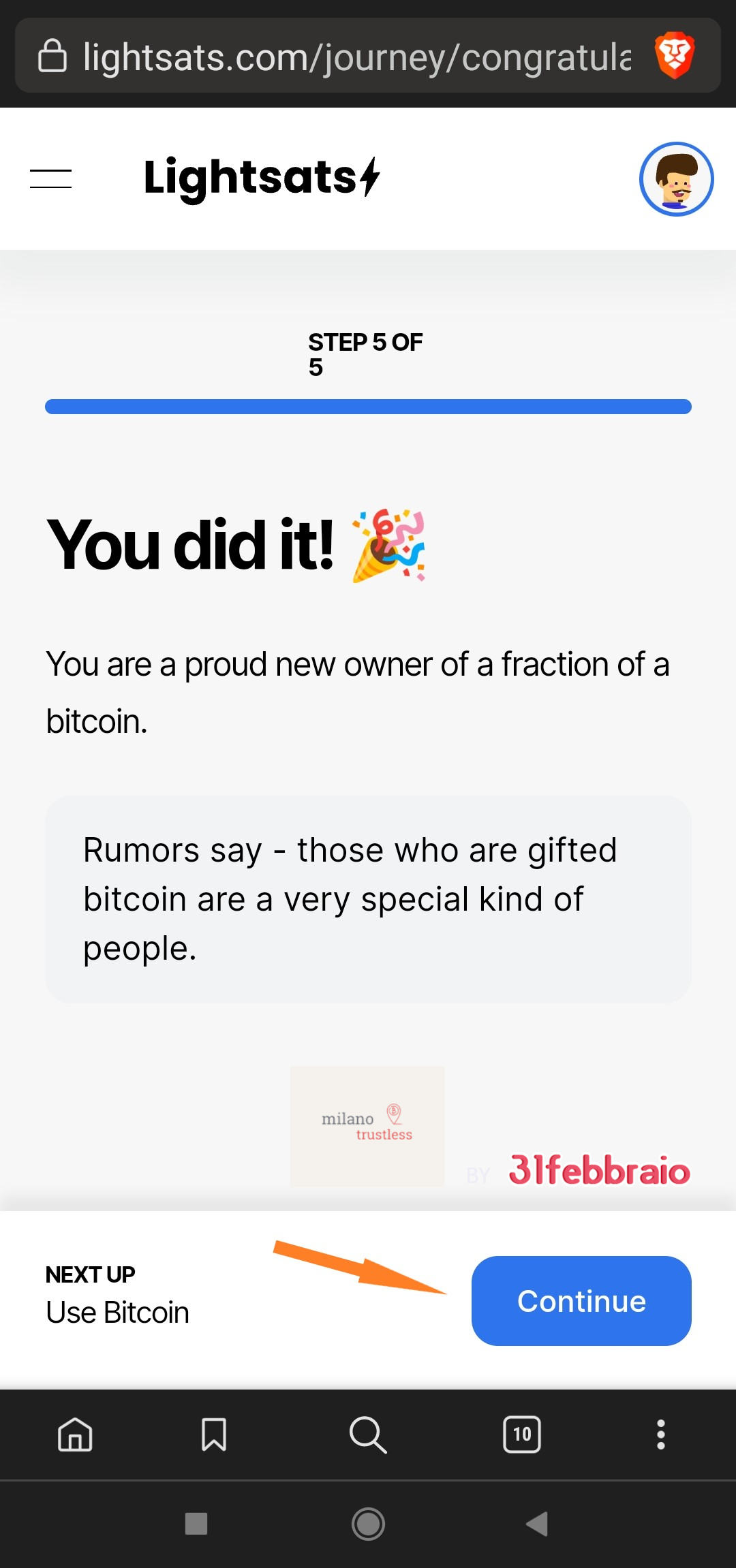 ○ Clicking 'Continue' Lightsats offers a series of suggestions. Links will appear, which the user can explore to find out how and where:
Spend Bitcoin
Earn
Buy
Save
Spend
Send a tip
Make donations
Learn more about Bitcoin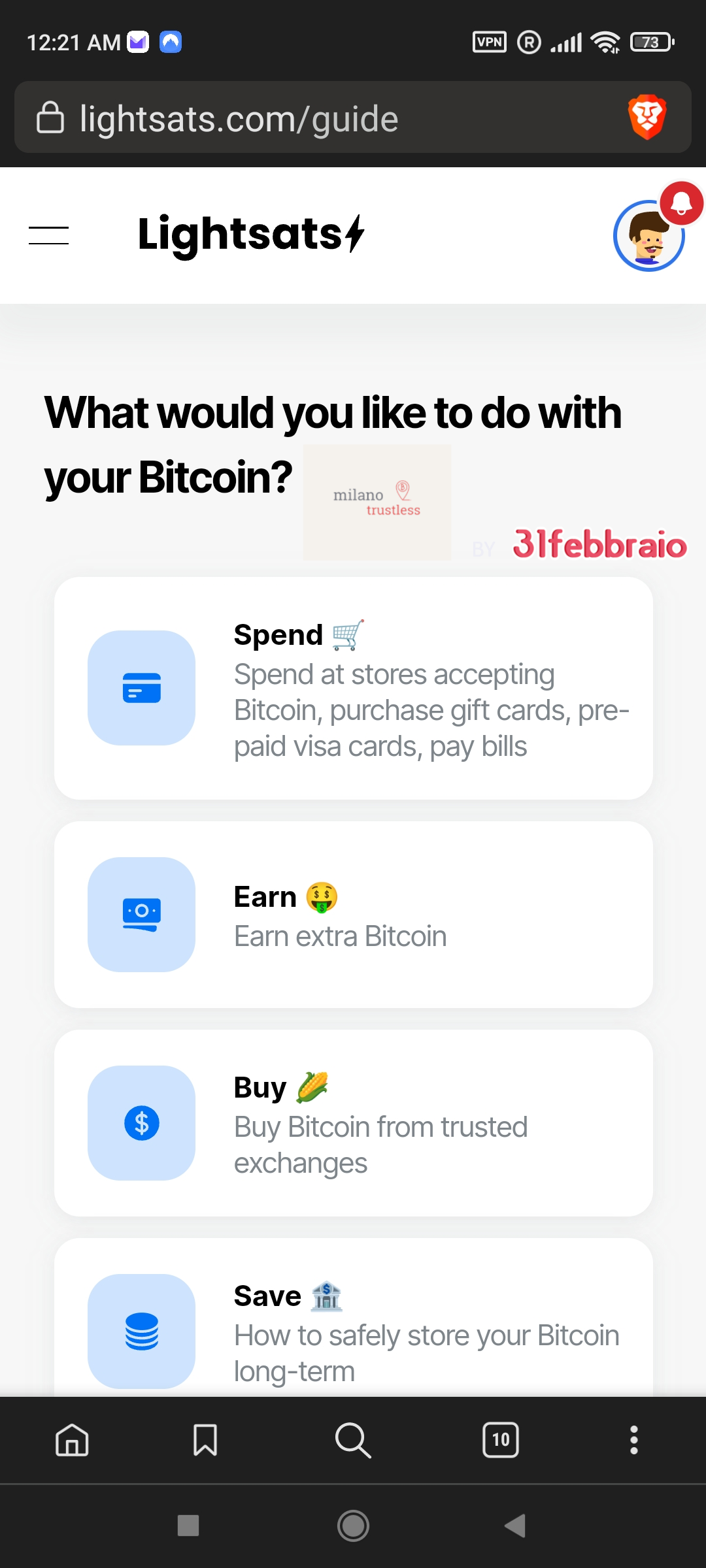 If your journey so far has been easy, congratulations: you just got your first sats.
If you found it difficult, don't hesitate to ask us for all the support, information, addresses and useful links.
There are numerous resources and meetups on the web and in our cities where you can learn more about the value of this digital, open source, decentralised, peer to peer monetary system with a fixed, immutable and programmatic supply - (quote from Bitcoin & Exponential Freedom, a book from Jake Leary)
---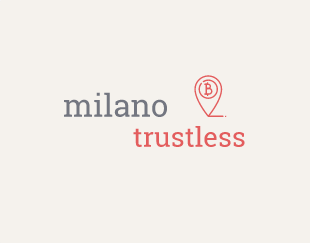 ---