dev/hack/day features an exciting lineup of talks, workshops, and seminars.

This event is designed to be an engaging and informative day filled with talks featuring breakthrough ideas and engaging workshops where you can get hands-on experience with cutting-edge technologies. The networking and brainstorming during this official BTC Prague side event will be unprecedented.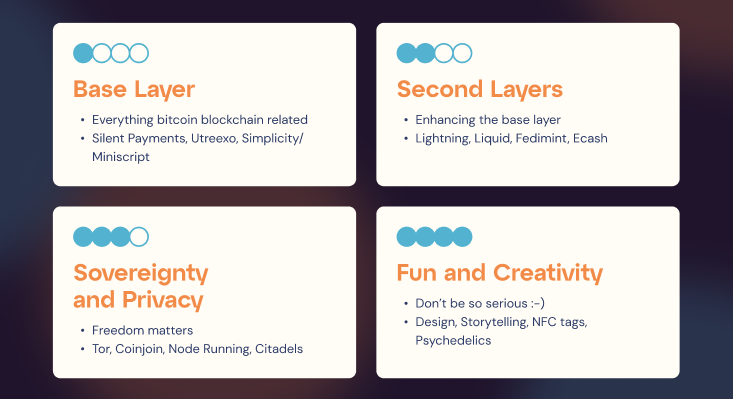 Here is a glimpse of what the program at dev/hack/day offers:

Are you interested in bitcoin wallet development?
Jameson Lopp, a bitcoin OG and well-respected researcher will be giving an intro to wallet development. Don't miss out on this opportunity to learn about the fundamentals of creating a secure and reliable wallet.

Are you familiar with FullRBF?
Peter Todd, a Bitcoin Core contributor, will be discussing the benefits of running FullRBF. This talk will be informative and engaging, offering insight into the world of FullRBF and why it should be utilized.

Would you love to know how cypherpunk technologies work?
Join Juraj Bednár as he explores the world of cypherpunk technologies and how they work. Don't miss this exciting opportunity to delve into the fascinating world of online privacy and security.

Are you curious about how to build a free city?
Peter Young, CEO of Free Cities Foundation will explain the key principles and strategies for creating a thriving community. All based on real experiences from different locations all around the world.

Wondering what obstacles are you going to face in your citadel?
Don't miss out on Rahim Taghizadegan as he discusses the appeal and potential pitfalls of bitcoin citadels. Discover the benefits and challenges of creating a bitcoin-based community and explore the future of decentralized living.

What a bitcoin developer's work could look like?
Discover the latest advancements in Bitcoin Core with Gloria Zhao as she provides a live pull request review of the codebase. Explore the fascinating world of coders and gain insights into bitcoin development.

Do you want to learn more about Simplicity and Miniscript?
Blockstream's Christian Lewe will provide insight into the world of these two languages. Discover how these powerful tools can simplify bitcoin scripting and unlock new possibilities for smart contract development.

Do you need a deeper insight into Liquid?
Join Marco Argentieri as he discusses Liquid as the smart contracts layer for lightning applications. Learn about its benefits and explore the potential for building decentralized applications on top of the Liquid network.

Have you heard about Utreexo?
Don't miss a comprehensive overview of Utreexo, the dynamic accumulator for bitcoin state, with Calvin Kim. Discover how this innovative technology can enhance efficiency and scalability of bitcoin by reducing the cost and storage burden of running a full node.

What about your transaction privacy using Electrum?
Enhance your bitcoin transaction privacy with Electrum! Join Thomas Voegtlin as he discusses the latest developments in this popular bitcoin wallet and provides valuable insights into how to secure your bitcoin transactions.

How will mining be affected by Stratum v2?
Lorenzo, Elia and Felip from the Stratum v2 core team will hold an informative workshop on Stratum v2, the next-generation mining protocol for bitcoin. Learn about the advantages of Stratum v2 over its predecessor and explore its features for enhanced efficiency and security.

What will DLCs on bitcoin and lightning cause?
Philipp Hoenisch will explain how discreet log contracts (DLCs) allow for smart contracts on the bitcoin blockchain and lightning network. Discover how this innovative technology can increase the efficiency and security of financial transactions, and revolutionize the world of decentralized finance.

Interested in setting up your own Fedimint?
Elsirion will guide you through the process of creating your own Fedimint that is going to enhance the privacy, scalability, and interoperability of the bitcoin network. Don't miss out on this exciting opportunity to explore the world of federated sidechains!

Do you want to learn more about bitcoin privacy?
Max Hillebrand, a contributor to Wasabi Wallet and other FOSS, will lead a Socratic discussion about bitcoin privacy fundamentals. Max will cover the basics of bitcoin privacy and how it can be utilized to keep your transactions private and secure.

Is brand storytelling in bitcoin important?
Learn how to effectively communicate your brand's values, vision, and mission to your target audience through compelling storytelling with Pierre Corbin. The art of brand storytelling can help you stand out in the competitive world of bitcoin!

Wondering what bitcoin and psychedelics could have in common?
Ioni Appelberg will explore the similarities between bitcoin and psychedelics, and how they can both facilitate a shift in consciousness. Discover how bitcoin is transforming the economy by challenging traditional power structures and creating a more equitable financial system.

How to use bitcoin principles to improve your leadership skills?
Sophie von Laer shares how bitcoin principles can inspire and transform your leadership style. Find out how decentralization, transparency, and autonomy can create a more engaged and empowered team.

Do you want to become a bitcoin node?
Niftynei will turn you into a bitcoin node while interacting with others in a live-action role-playing game. Despite every single LARP being unique, this one is going to be super extraordinary!

What about a comparison of Cashu, Fedimint, and Liquid?
Developers Calle, Elsirion, and Tiero, will compare these private solutions built on top of bitcoin. This Socratic discussion will cover the differences, similarities, advantages, and challenges of Cashu, Fedimint, and Liquid.
There is no space for waiting to secure your spot as the number of tickets as well as the venue capacity are limited. Don't miss this great opportunity to meet the most inspirative guys in the field and cooperate with them.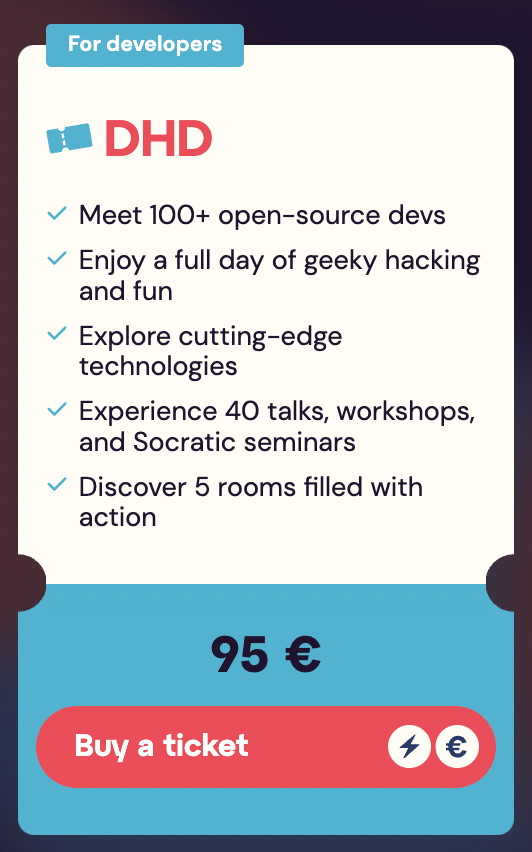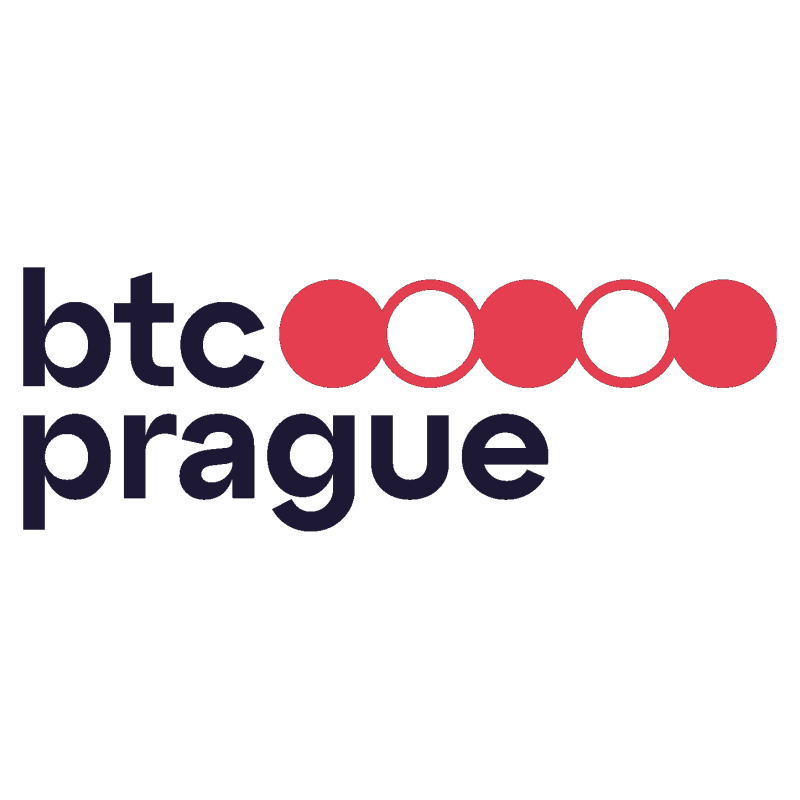 The biggest bitcoin event in Europe | June 8 - Industry day | June 9 & 10 - General admission | Expo with 100 booths of BTC companies | Conference with 80+ world-class speakers | Great networking 🧡
follow me :