As Hardcore is much more than a musical genre, Bitcoin is much more than a currency. I wanted to title this article "Live by the Code" citing the famous Terror album precisely because code is the key word to bring these two brothers together. I am not referring, however, to the code (programming language) in which Bitcoin is written, but to the ethical code that both share.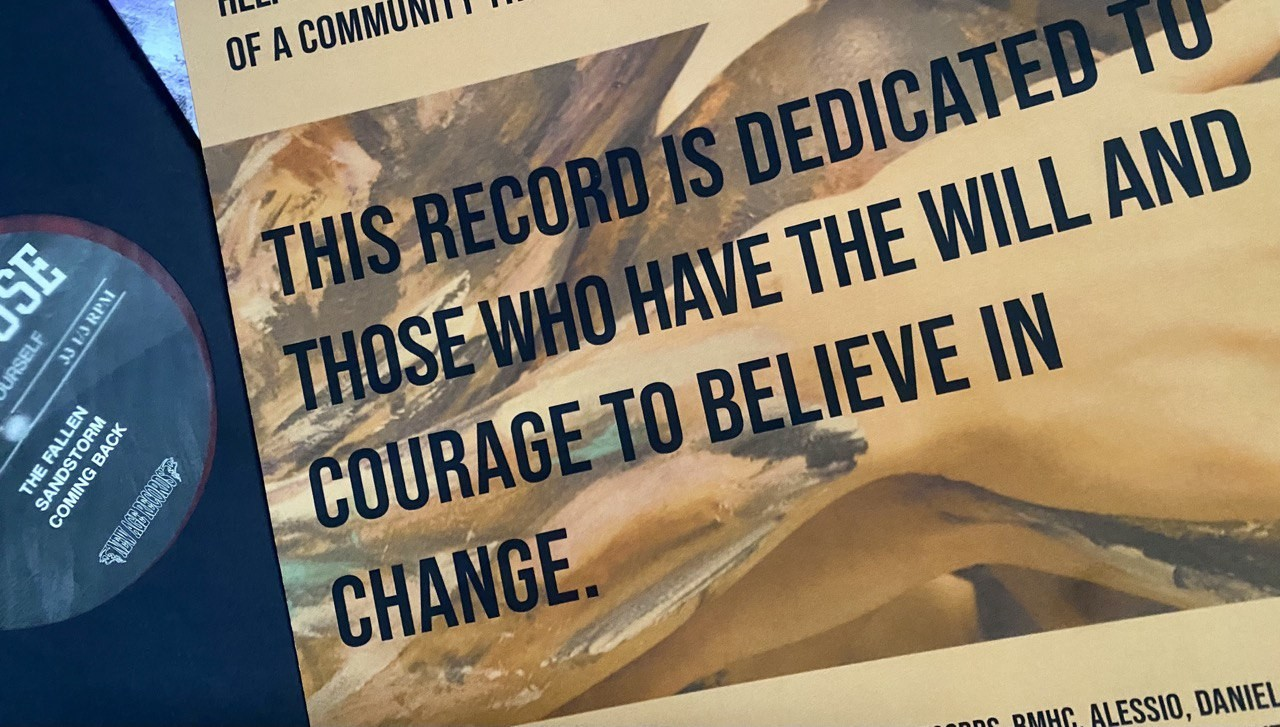 Change
Being a child of punk, hardcore could not avoid being used as a tool of denunciation; social and political. Shrinking freedoms, widening inequalities and general flattening are just a few examples of what can be found in song lyrics. All this (and more) is caused by the current monetary system (fiat money); a system that, inevitably, is collapsing bringing with it culture, values and genuine relationships but that, in any way, they try to keep up because it is too convenient for some (to the detriment of many others)...
Now; I know that some hardcore kids are already angry and don't want to hear about the monetary system, banks or governments, but knowing the enemy is a fundamental requirement.
Fiat money (euro, dollar, etc.) is an inflationary currency, programmed to devalue over time and is centralized because it is controlled by very few people in the world. Just a click from a central bank PC and the carousel is promptly started... New money is issued and it goes directly into the hands of banks, governments, bankruptcy companies to be saved as they have interests with states and other similar rubbish... Here, some time later, anyone who has not directly benefited from this mechanism perceives a devaluation of their purchasing power and their savings (Cantillon effect). If you often wonder why every day your life becomes more and more difficult despite you continue to give your best, this (very briefly) is the reason!
Having in your hands a currency that devalues leads, inevitably, to a decay of society. People look for value and satisfaction in other things (often in trivial things: objects, branded clothing, appreciation on social networks, etc.). In the worst cases it also has serious psychological consequences such as, for example, a sense of inadequacy, insecurity and depression.
Ok, but... what about Bitcoin? Bitcoin is the tool to use for change.
The result of several years of studies / experiments conducted by cypherpunks and published by the pseudonym Satoshi Nakamoto, Bitcoin is code and aims to combat this system of which we have been victims for too long. A healthy currency that anyone can know how it works and contribute to its development. A decentralized currency since it is in the hands of users (and not of a central body) and finished (21 million units).
Every transaction made on the Bitcoin blockchain is public and pseudonymous. This means that there is no possibility of manipulating or hiding any type of movement and at the same time there are no names and surnames (and other sensitive data) of those who carry it out; but addresses (similar to IBAN, to be clear). In addition, a transaction carried out on bitcoin (being decentralized) does not need the involvement or permission of any third party to be carried out. This means that people can autonomously transmit value to each other regardless of the nation in which they are located, their social class, religion, ethnicity or any other characteristic.
Take this chance and bring it to a global scale; Can you imagine the incredible opportunities that would open up and the consequences it can lead to? Hence the saying that is often used among bitcoiners:
Fix the money, fix the world.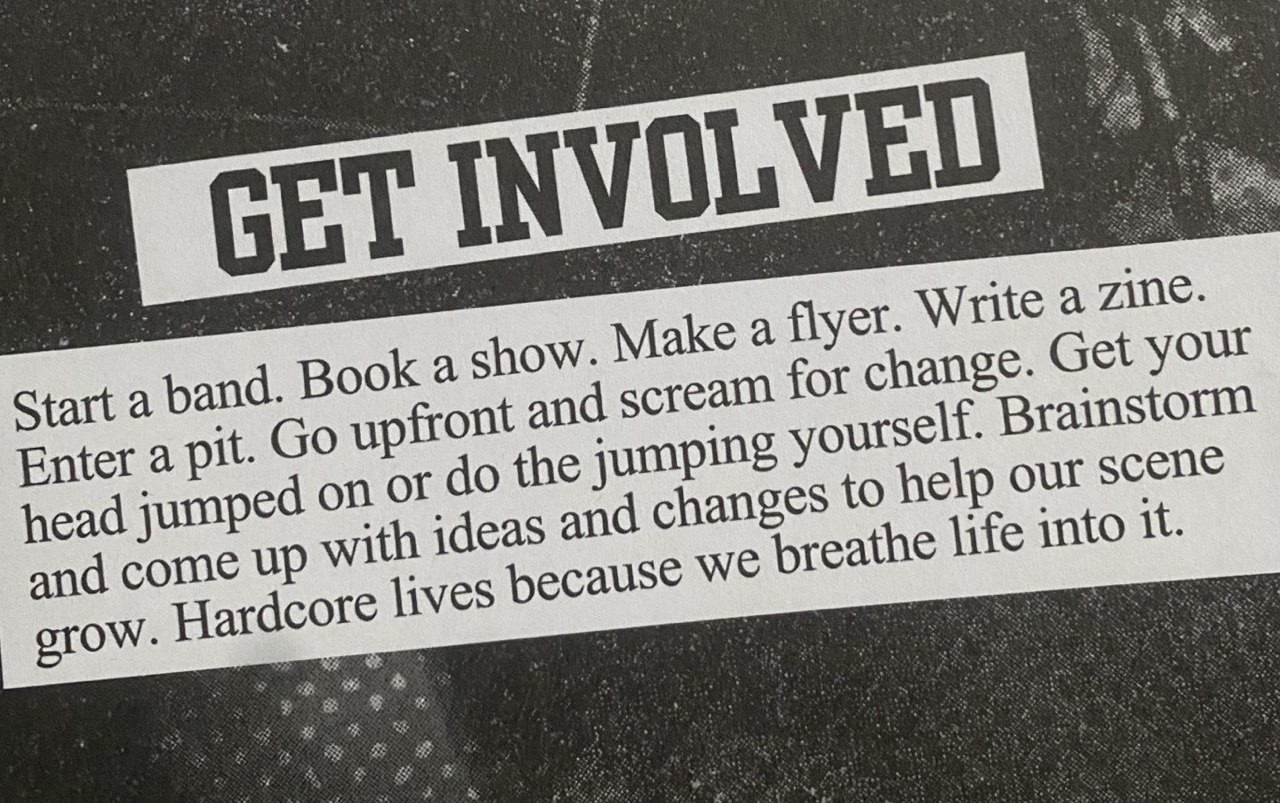 Involvement, dedication
Whoever is part of the Hardcore scene, tendentially, has only one purpose: to support it.
Not being all musicians, however, everyone tries to contribute according to their abilities. In addition to the bands, in fact, there are those who organize concerts, those who write articles / reviews, those who do interviews, graphic designers who create posters / flyers, artworks for albums, lay out zines, photographers, videomakers, people who go to concerts and animate the pit and many others. All these people work hard to make their contribution (very often leaving aside the economic aspect of doing so) and all for the same cause: to keep Hardcore alive and make the scene grow. Why?
For the love. To spread messages, principles and values. To try to make the change we want so much become reality. Because it makes you feel good.
Probably those who have never been in contact with bitcoiners will not expect it but the Hardcore scene and the Bitcoin scene are incredibly similar.
Bitcoiners who are not devs and therefore do not contribute to the development of the protocol (called plebs) contribute in the way they can to the spread of Bitcoin. Take a tour on Twitter or join some Telegram groups of bitcoiners and you will find a lot of people who: make informative graphics about Bitcoin, memes, write and translate articles in their own language, record podcasts, manage YouTube channels, organize conferences / events, try to help less experienced people and other stuff. You will be pleasantly impressed by the availability and generosity that generally characterizes bitcoiners (not all of them of course; in the end we are always talking about human beings). Why?
For the same reason that the hardcore kids are busy for their scene with the difference that Bitcoin has been designed and programmed to be used by any person living on planet earth. Bitcoiners, therefore, are very different from each other; Despite this, they are able to tune in to the same frequency and work together for the cause.
Taking a step back; Returning to change. If the Hardcore exposes certain problems and Bitcoin is the tool that aims to solve them; Can you imagine what movement could trigger the union and collaboration between these two worlds? The potential is really huge!
Advantages of using bitcoin as a currency in the hardcore scene
To conclude this article, I would like to make a brief analysis of the benefits that the use of bitcoin as a currency / medium of exchange could bring to the hardcore scene.
Many "insiders" of the HC do not do it for work. This means having less time and energy available to devote to the scene and, as is well known, time is money (and money is energy). Abandon the weak currency (easy money) in favor of the hardest currency ever existed until now (hard money); in addition to the ethical partnership, it could be of great help to economically facilitate the realization of the different projects in the HC but above all to keep them active over time!
How many times has a band we liked managed to make only one record? Or did a zine manage to release only the first issue and then had to stop? These sorrows may finally end... Receiving money that actually has value (especially over time) in exchange for one's work is incredibly motivating and would lead, probably even unconsciously, to a natural increase in the quality of the products. In this case of records, festivals, zines, graphics, etc. helping the scene to grow exponentially.
In addition to all this, Bitcoin could also bring numerous benefits on a practical level. Imagine a band on tour that has to cross numerous cities, perhaps scattered between the various continents and therefore finds itself having to deal with different economies and habits. Accepting bitcoins would mean eliminating currency exchange, having low or almost zero commissions, fast and instant exchanges, not having to manage remains and not having to go around with cash; All you need is a smartphone. Funds directly managed by the interested parties without ever having to go through third parties... Great, isn't it?
During these tours, unfortunately, sometimes musical instruments, PCs and other personal effects are stolen from the bands. Often taken directly from the vans to which damage is inevitably caused (note: the theft of a smartphone does not necessarily imply the loss of bitcoins, if you deepen you will understand why). It's not the first time that artists ask for help through crowdfunding campaigns to amortize the damage suffered. To do so, however, they must necessarily go through a third party platform that, of course, applies commissions that are often unclear and rarely low. Raising funds with bitcoin would be very easy and anyone, from anywhere in the world, could participate; it would be enough to share an address (written or in the form of a QR code). In this way, the band would have custody and access to funds as soon as transactions are confirmed and users could donate well aware of how many commissions they will pay and how much will actually get into the hands of the artists.
Bitcoin, not only can be "the currency of the internet", it can be the currency of the whole world.
This article was my first attempt in trying to bring the Hardcore scene closer to Bitcoin (and, why not, even some bitcoiners to the HC scene!). If you've come this far, there are chances that you're asking yourself a lot of questions... It's normal! Do your own research, join groups that talk ONLY aboutBitcoin and not about other cryptocurrencies. If you want to give me your opinion or discuss what I have written contact me without problems; @xgabrirossx. It will be a pleasure to make a few words!

Stack sats and see you in the pit!